UCMJ Article 107 Military Defense Attorney
As a member of the United States Armed Forces, you take on an immense amount of responsibility. You must always comply with state, federal, and military legislation, in addition to always remaining poised. From serving in active duty to training at home, military personnel are held to incredibly high standards.
False official statements are one of the most common accusations against military personnel. While these violations are seen more often than others, they can still result in severe consequences, like a dishonorable discharge. If you were accused of violating the Uniform Code of Military Justice (UCMJ), find a defense lawyer to discuss your concerns with as soon as possible.
Military Defense Representation for False Official Statements: The Law Center P.C.
The Law Center P.C. is a firm dedicated to the sole purpose of providing accessible and accommodating legal guidance. Our team possesses years of experience in criminal, family, and estate planning law on top of insight into the UCMJ. We have taken on numerous cases involving military personnel and understand how complicated they may become. Our firm and our dedicated staff members have defended members of the military from around the state and are experienced with Article 107 cases. For military defense representation dealing with false official statements, The Law Center P.C. offers counsel for all members of the armed forces looking for help.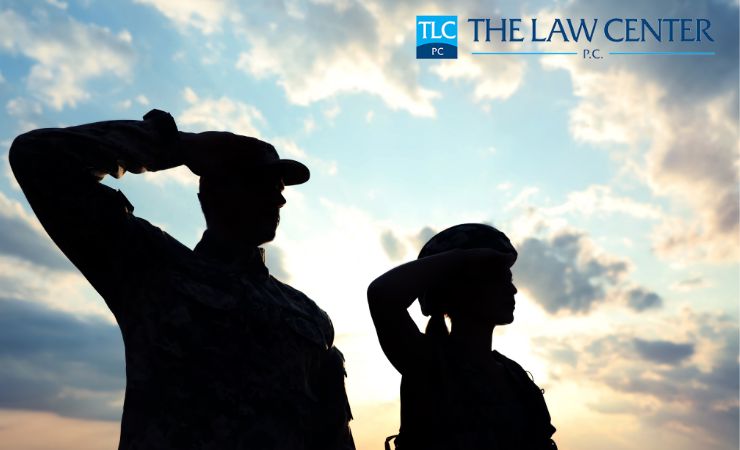 What Is a False Official Statement?
In Article 107 of the Uniform Code of Military Justice, it states that members of the U.S. Armed Forces can be punished if they are found guilty of making a false official statement. A false statement is a violation when it impacts "military functions." A military function is considered any matter that is within the jurisdiction of the armed forces to handle. To be accused of this violation, the defendant must have done one or more of the following with the intent to deceive someone else:
Signed any kind of fake official military order, record, or document while knowing it was false.
Made any form of false official order, record, or document with knowledge that it was false.
Members of the military can also face penalties if they are accused of false swearing. To be charged with false swearing, military personnel must:
Take an oath that is administered by an official and authorized by the law.
Make a statement or comply with a statement they believe or know is false at the time of the swearing.
What Happens If a Member of the Military Makes a False Statement?
Any individual who is found guilty of false swearing or making a false official statement can be subject to punishment according to a court-martial. Possible consequences for military service members who violated Article 107 include:
Confinement for up to five years (in a jail, prison, correctional facility, etc.)
Dishonorable discharge from the armed forces
Termination of all benefits, pay, and allowances
Why You Need a Military Defense Lawyer
Not just any defense lawyer can defend you in a case involving military law and codes of conduct. The civilian court system was designed to handle a broad range of legal matters involving both criminal and non-criminal offenses. While military law is largely based on this system, it varies in many ways and is much stricter. That's why it is critical that you seek legal guidance from a military defense attorney who is well-versed in the Uniform Code of Military Justice. The UCMJ is a unique code of conduct that all members of the armed forces must abide by. It is used to hold military personnel accountable, making it crucial that you have legal counsel who properly understands it. At The Law Center P.C., we offer passionate, accessible defense services for individuals who are a part of the armed forces. We have insight into military law and how legal proceedings are handled, allowing us to give you the representation that you deserve.
FAQs About UCMJ Article 107 Military Defense Law
Is Lying a UCMJ Offense?
General lying cannot be punished by the UCMJ unless there is a clear intent to deceive and it impacts some type of military function. In that situation, an accusation could then be based on the guidelines outlined in Article 107. This means that, in most cases, lying would be considered an Article 107 violation, as it can be considered a false official statement.
What Is the Maximum Penalty You Can Receive for Violating UCMJ Article 107?
While the circumstances of every case can vary, the maximum penalty for violating Article 107 stays consistent. If military personnel are found guilty of making false official statements, they can be dishonorably discharged from the armed forces altogether. This would then force them to forfeit all benefits and pay that they were eligible for. In most cases, the maximum penalty also includes some form of confinement for around five years.
When Should You Hire a Military Defense Attorney?
The second that you are presented with accusations against military law, you should begin considering hiring a lawyer. Because military personnel are held to such high standards, in addition to having to follow different laws, it's crucial that you have a defense attorney who can listen to your side of the story and help you through your case. Do not attempt to go through a UCMJ violation case by yourself. Instead, see how The Law Center P.C. can provide you with assistance.
What Is a Military Function?
The term "military function" is used in Article 107 to describe all matters that the military holds jurisdiction over or would be involved with. To be held accountable for a false official statement, you must have impacted someone or something negatively within military jurisdiction. This could include the performance of duties, events, plans, and other services that the military may provide.
Colorado False Official Statement Attorney
The Law Center P.C. empathizes with the members of our armed forces. We understand that you put an immense amount of time, passion, and life into fighting for our country. That's why our firm is committed to providing the support that you deserve. For further details on our military defense services at The Law Center P.C., contact our team immediately.