Denver Sexual Assault Attorney
Sexual assault and other sex crimes, especially those that involve children, are among Colorado's most aggressively prosecuted and harshly punished crimes. The justice system is tasked with holding offenders accountable and preventing future sex crimes from occurring. However, this tenacious search for criminals may also falsely implicate innocent citizens. A sexual assault conviction on your record in Denver, CO can have severe consequences, including jail time, fines, and being placed on the sexual offender registry. Even just an accusation is enough to seriously damage the course of your life with long-term consequences. In the event of a false accusation, you must move quickly to ensure your rights are protected and your innocence is proven.
Although any criminal accusation warrants seeking out a skilled defense attorney, this is especially important if the crime is sexual assault. An experienced Denver sexual assault attorney is an invaluable resource as you navigate this confusing and overwhelming situation. The Law Center P.C. has skilled staff that are dedicated to crafting the strongest possible defense for your case. We can ensure that your case is presented persuasively and effectively. Our sexual assault attorneys are familiar with how these cases are handled. We can provide the representation and guidance required to find the most ideal outcome. Our team can create the defense to reach it.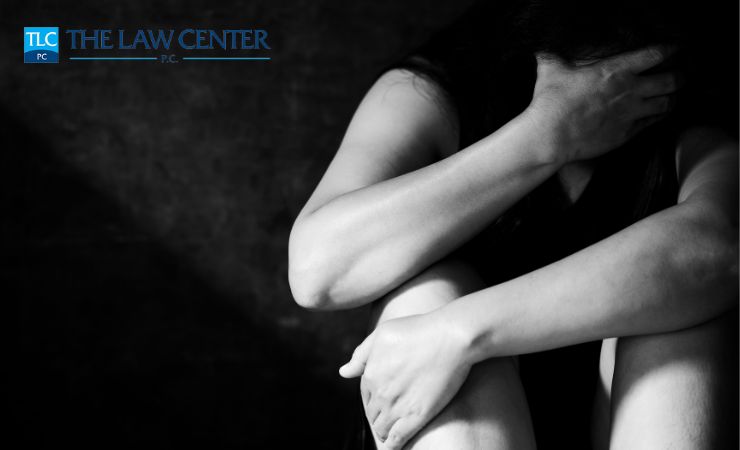 What Is Sexual Assault?
Per Colorado's definition, sexual assault is the non-consensual or forced act of sexual intrusion or penetration. To meet the legal definition of sexual assault, the sex act must be penetrative—such as oral, anal, or vaginal sex. Specifically, sexual intercourse will become sexual assault, or rape, if either:
It is against the victim's will.
The victim is, in some way, physically helpless.
The victim is high, inebriated, or otherwise mentally debilitated.
Less common situations that also constitute rape include:
The victim is in a hospital or in custody, and then a person with authority coerces them.
The assault was committed by a purported medical provider, and there was no legitimate medical purpose.
The victim consented to sex, incorrectly believing the other person to be their spouse.
Because a charge of sexual assault requires penetration, non-consensual touching that does not include penetration will instead be charged as unlawful sexual contact. Examples of rape include, but are not limited to:
Fingering
Using a foreign object for penetration
Cunnilingus or fellatio
Anal sex
Vaginal intercourse
Statutory Rape
The age of consent in Colorado is 17 years old, meaning a person must be at least 17 to legally consent to sex. If the sexual acts involve someone younger than 17, the charges filed will include statutory rape. This charge can be applied even if the minor wanted to engage in sexual activity or lied about their age. There are, however, three exceptions:
The minor is younger than 15 years old, and the other person is less than 4 years older.
The minor is 15 or 16, and the other person is less than 10 years older.
The involved parties are married.
Note that these exceptions only apply to situations where the sex was consensual. There are no exceptions for forcible rape.
Sexual Assault Penalties
The specific penalties you could be facing depend entirely on the exact charges brought against you and the circumstances of the case. Rape and sexual assault penalties can range from a Class 2 felony to a Class 6 felony.
Class 2 Felony
This is the charge given if a deadly weapon was used, more than a single person aided or abetted in the alleged crime, or if serious bodily injury occurred. A person convicted of this crime faces eight years to life in prison (depending on the aggravating factors of the situation), a fine ranging from $5,000 to $1 million, and five years of parole.
Class 3 Felony
This charge is used when the victim is identified as physically helpless and did not consent to the activity. It can also be applicable if the victim's mental capacity has been altered without their consent. Additionally, this charge is filed when injury, pain, kidnapping, violence, retaliation, or death is threatened or occurs during the offense. Penalties for Class 3 felonies include four to 16 years in prison, a fine between $3,000 and $750,000, and five years of parole.
Class 4 Felony
This charge applies if the victim is younger than 15 and the defendant is older than them by 4 or more years. It also includes other sexual assault crimes that do not fit into the other categories. Anyone convicted of this crime faces two to eight years in prison, fines between $2,000 and $500,000, and three years of parole.
Class 6 Felony
This charge is used when the victim is between the ages of 15 and 17 and the alleged perpetrator is older by 10 years or more. A conviction can result in a prison sentence ranging between one year and 18 months and a fine between $1,000 and $100,000.
Jail, prison, and fines are not the only consequences that can result from a sexual assault conviction. Other consequences include:
Sex Offender Registration
The Sex Offender Registration Act applies to all adult defendants who are convicted of felony sexual assault. They are required to register as sex offenders for the rest of their lives. This includes a conviction for statutory rape offenses. Minors that are convicted of sex offenses are limited to when they turn 25 or seven years after the registration, whichever happens later. Failure to comply with these registration requirements can be charged as a felony. A first offense constitutes a Class 6 felony, while subsequent failures are Class 5 felonies.
Parolee Supervision
Even after your prison sentence has been served, you will not be entirely free to return to your life. An intensive supervision program has been created under the Sex Offender Lifetime Supervision Act of 1998. It monitors sex offenders who have served time in prison and have been released on parole. For some, a condition of their parole will be to participate in this supervision program. The program is designed to minimize risk to the public with conditions like severely limiting activities, monitoring curfews, drug and alcohol screening, daily contact with the probation or parole officer, and payment of restitution.
Treatment
Convicted sex offenders are required to undergo appropriate treatment. This is a condition of any sentence to community corrections, probation, parole, or incarceration. These individuals are subject to identification and evaluation to determine the most appropriate treatment. Recommendations from the Judicial Department, the Department of Corrections, the Division of Criminal Justice, and the Department of Human Services.
Personal Life Changes
A sexual assault conviction can seriously damage your reputation in your community. This damage is likely to have widespread and long-term effects, including the loss of those important to you, rejection from higher-paying jobs, and the inability to find a home to rent. If you are required to register as a sex offender, this classification is a matter of public record and will follow you wherever you go. It will be almost impossible to escape the stigma associated with a sexual assault conviction.
The consequences of a sexual assault conviction are severe and should never be treated lightly. In the worst-case scenario, you could spend the rest of your life in prison. It is important to contact a skilled defense attorney as soon as possible after an accusation or arrest. They can advise you on the next steps to take. Knowledgeable representation can keep you from suffering through the consequences of a crime you did not commit.
Finding an Accomplished Sexual Assault Defense Attorney
Skilled defense attorneys are likely to have dramatically positive effects on your situation by building a compelling defense strategy. Due to their importance, your choice of defense attorney should not be left to chance. There are several factors that you should consider when evaluating your attorney options.
Compassion
Dealing with an accusation of sexual assault will be emotionally difficult and mentally draining. A compassionate lawyer understands the toll these cases can take. They can be a valuable source of support and guidance for their clients.
Experience
The attorney you choose should have an extensive history of handling sexual assault cases. Sex crimes are incredibly nuanced. They require a thorough knowledge of the applicable laws, procedures, and strategies specific to these cases. A lawyer who can effectively navigate the legal system is vital to your case's success.
Reputation
A track record of obtaining favorable outcomes for clients, such as negotiating a plea deal, dismissal of charges, or a not-guilty verdict, translates to a strong reputation in the legal community. An attorney with a well-respected reputation for success may be more effective at negotiating with judges and prosecutors on their client's behalf.
FAQs About Denver, CO Sexual Assault Law
What Is Sex Offender Registration?
Sex offender registration is a system created to log the personal information of individuals convicted of certain sex crimes. Those convicted must register their information with local law enforcement to ensure this information is available to the public, with the intent of maintaining public safety. Colorado's Sex Offender Registration Act requires any adult who is convicted of felony sexual assaults, including statutory rape, to register as a sex offender for the rest of their lives.
What Are the Exceptions for Statutory Rape?
Statutory rape is defined as an act of sexual intercourse with a person who is under the age of consent, or under the age of 17 in Colorado. There are three exceptions:
The minor is younger than 15 years old, and the other person is less than 4 years older.
The minor is 15 or 16, and the other person is fewer than 10 years older.
The involved parties are married.
What Is the Sex Offender Lifetime Supervision Act of 1998?
This act requires that many sex crime offenders live under probation for the remainder of their lives after their release from prison. It states that almost all Class 4, 3, and 2 sex offenses that were committed after November 1, 1998, must be accompanied by a lifetime probation sentence for the defendant. This condition is applied by the court on a case-by-case basis, specifically based on the likelihood of reoffending.
Do I Need to Hire a Defense Attorney If I Am Accused of Sexual Assault?
Sex crimes, especially sexual assault, should not be taken lightly. The consequences of a conviction can be severe and life-altering. Depending on the circumstances of the case, a conviction can result in you spending the rest of your life in prison. It is important to speak with an experienced Denver sexual assault lawyer. They can ensure your rights are protected and you are not wrongfully convicted of a crime you did not commit.
What Is the Statute of Limitations on Sexual Assault in Colorado?
The statute of limitations on sexual assault depends on the circumstances of the case. There is no statute of limitations if the victim was 14 years old or younger when the assault occurred. Generally, however, the statute of limitations for sexual assault is 20 years. Prosecutors can bring charges 20 years after the assault unless the victim was 15, 16, or 17 at the time of the offense. The 20-year time limit starts when the victim turns 18.
Fighting Your Sexual Assault Accusation
You are likely feeling intimidated or frightened following an accusation or arrest for sexual assault. This can be especially true if you have been interviewed or interrogated by the police regarding the situation. Finding a legal team that can put your mind at ease while fighting for your rights is important during this process.
The Law Center P.C. has a skilled team of lawyers and professionals. They are uniquely qualified to help solve your complex legal issues. Our top-tier capabilities can increase your confidence, reduce your fears, and help you feel better during this difficult time. With knowledge of multiple areas of law, we can help with any type of case you may have. Our comprehensive approach to your case allows us to tailor your defense to achieve a favorable outcome. Take the first step in protecting yourself by contacting The Law Center P.C. for a consultation to discuss your legal options.