UCMJ Article 121 Military Defense Attorney
Any kind of theft conviction on your record can have a severe impact on your life, especially if you are serving in the military. Theft is a broad term used to describe an array of offenses that involve stealing another person's property. Often called larceny, these charges come in varying forms and can result in harsh consequences if a member of the military is found guilty.
At The Law Center P.C., our lawyers are committed to the defense of service members' rights. Our staff has an abundance of insight on military defense as well as offenses like larceny and wrongful appropriation. By putting the needs of our clients before anything else, our firm has been able to help numerous military members through their legal obstacles. For a defense team that is ready to aid and support you during a UCMJ violation case, The Law Center P.C. is here for you.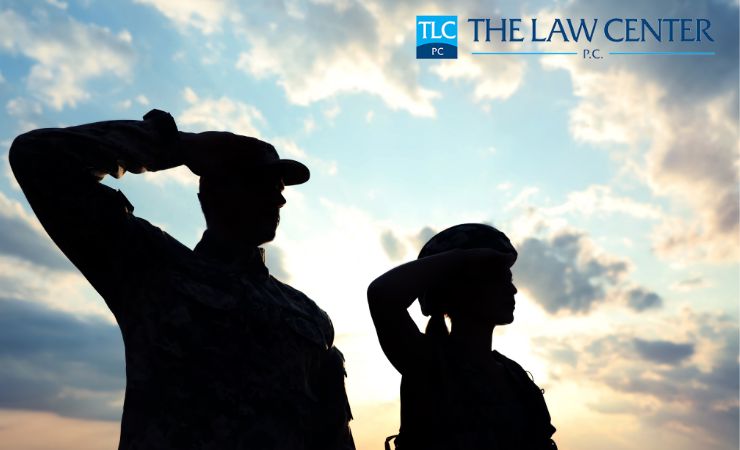 What Is the Difference Between Larceny and Wrongful Appropriation?
The classification of military theft charges is normally dependent on the value of the property that was stolen, the intention of the defendant, and whether violence was involved. Larceny is defined in Article 121 of the Uniform Code of Military Justice (UCMJ) as the illegal and intentional act of taking someone's property without consent. This is otherwise called general theft and occurs when an individual takes something with the intention of depriving the owner of that property permanently.
Wrongful appropriation, however, is not the same as larceny in the military. UCMJ Article 121 defines wrongful appropriation as the act of taking property without consent but with the intention to do so only temporarily. Simply put, wrongful appropriation occurs if an individual steals something and then attempts to return it or plans on not keeping it. While it is incredibly similar to larceny, the intent of the defendant can change the offense.
Article 121 Violations
When an individual steals another person's property for their own personal gain, it is considered larceny by the Uniform Code of Military Justice. Article 121 of the UCMJ states that this charge involves any general larceny offense, including petty theft, grand theft, robbery, embezzlement, and more. For a member of the armed services to be convicted of larceny according to Article 121, the prosecution is required to prove the following:
The defendant unlawfully stole, obtained, or hid property that did not belong to them.
The property held value, whether financial or sentimental.
The defendant's intent was to permanently strip the owner of that property or make sure that they could not benefit from it.
Similarly, the prosecution must demonstrate the following to convict military personnel of wrongful appropriation:
The defendant unlawfully obtained, stole, or restrained property that was not their own.
The property belonged to another person, group, or the military.
The property held value.
The defendant's intent was to temporarily strip the owner of their property or misuse it for the benefit of themselves and others.
Working With The Law Center P.C.
For matters involving military law, it is integral that you work with legal counsel that has experience in the field. At The Law Center P.C., our firm is made up of multiple skilled military defense attorneys who have represented military personnel across a range of proposed violations. Working with a lawyer is advantageous when battling accusations that can impact your position, your pension, and your place in the armed forces. With the help of our negotiation and problem-solving skills, the attorneys at The Law Center P.C. can fight for you in Article 121 violation cases.
FAQs About UCMJ Article 121 Military Defense Law
What Is UCMJ Article 121?
Article 121 of the Uniform Code of Military Justice is a collection of court rulings and legislation that detail theft charges in the military. This article specifically discusses larceny and wrongful appropriation, both of which are considered theft and can result in punishment by a court-martial. UCMJ Article 121 also details the potential punishments military members can receive if they are convicted.
How Long Does a Larceny Charge Stay on Your Record?
There is no designated limit on when a larceny or wrongful appropriation charge will be removed from your record. This means that the charge will be visible on your military record forever, unless your case is later dismissed. While military charges are often input into different databases than civilian court convictions, any criminal charges you receive in the military will be searchable by law enforcement or even future employers.
Should You Hire a Military Defense Attorney During a Larceny Case?
Most legal and government officials strongly recommend finding a military defense attorney when you're going to trial, especially if you are involved in the armed forces. Military personnel facing a potential criminal conviction in Colorado have the right to choose their legal counsel. This means you may be able to help yourself and your case if you find a defense attorney with the right qualifications.
What Are the Consequences of UCMJ Article 121?
If a member of the military is found to have committed larceny or wrongful appropriation while on active duty, they may receive consequences that are subject to a court-martial. However, it is possible that they can lose certain military benefits, such as their pensions, or even be discharged from the armed forces altogether. The severity of the offense will determine the maximum penalty.
Military Defense Attorney for UCMJ Article 121 Violations
Going up against a theft conviction is already intimidating, let alone when you know it can impact your career and livelihood. At The Law Center P.C., we have represented a myriad of clients in UCMJ cases. We understand that you face extreme stress as a member of the military and are here to offer you guidance when legal issues occur.
Whether you're involved in a wrongful appropriation case or you were charged with larceny while on active duty, seek a military defense attorney as soon as you can. For assistance with legal matters involving UCMJ Article 121, contact The Law Center P.C. and request a consultation with a team member today.